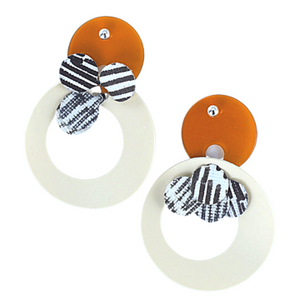 Delta Design
A great combination of pearl white, tangerine and black, that suits to your outfit, White Pearl stand for Beauty.
Delta Design are handcrafted out of recycled plastic, giving this material a second life as unique, bold, colorful and lightweight earrings with a fun and bold pattern.
Pattern Gems are the stylish and eco-friendly earrings with vibrant colors and bold patterns.

*up-cycled plastic
*2.5 inches