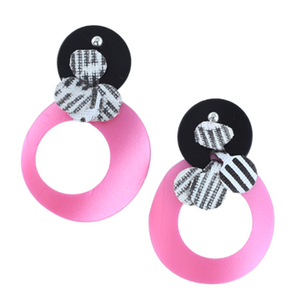 Flushed Design
These earrings are handcrafted statement earrings in pink, black, and white combination as its design. Featuring a sterling silver post earring, lightweight and easy to wear all day long.
Made from a collection of used plastics such as empty shampoo bottles, empty laundry detergent containers, and cooking ingredient containers.
Pattern Gems are stylish and eco-friendly earrings with vibrant colors and bold patterns.
*up-cycled plastic
*2.5 inches